Fuhrer Putz Nuclear Submarine Docks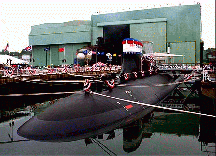 Führer Putz Underbot Verks
Submarine Docks on the Minnesota River in Mankato
The USS Iron Maiden prepares to be commissioned.

One of the largest facilities for the construction of nuclear submarines in the world is located on the Minnesota River in Mankato. Covering over 3000 acres, the Führer Putz Underbot Verks is one of Mankato's largest blue collar employers.

World War II POW artisans from Nazi Germany who were housed in New Ulm some twenty miles west of Mankato first proposed the idea. They wanted to get out of the harsh Minnesota winters of New Ulm to the balmy tranquility of Mankato. Minnesota Governor Lena Svenring talked with Congressman Ole Nordmark about their idea. (Yes, these were the two who gave their names to the Ole and Lena jokes!) Congressperson Nordmark liked it so much that he talked to President Roosevelt and the go ahead was given. Several hundred POWs were moved from New Ulm to Mankato and the design and building of submarines began. This was the humble beginnings of the Führer Putz Underbot Verks!

Due to war time shortages of barbed wire, men, and battery operated electronic devices (health aids) the POWs were housed in local homes. They went to work every morning and came back every night. Mankatoans looked the other way if some of them stopped by a friendly 'watering hole' to trade war stories and family memories with the locals. Just before World War II ended the Underbot Verks launched its first submarine, the Führer Jefferson, dedicated to the loyal members of the German-American Bund and the ten dollar bill - too late for the war effort.






The famous Mankato Silver Discs guard


Führer Putz Underbot Verks


During World War II.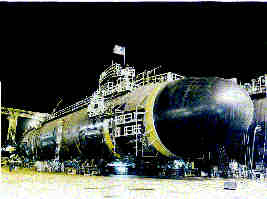 "Building a Submarine!"
You may enter the yard and watch it yourself!

Return to Mankato's home page.
---
<URL:http://city-mankato.us>
Disclaimer